Kylie Birch BVSc MRCVS | Veterinary Surgeon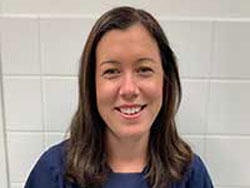 After graduating from the University of Melbourne, Kylie worked in semi-rural Australia for several years until the desire to travel set in. She arrived in the UK in 2008 and spent some time combining travel with work while locuming around the country, before settling down to the British way of life. Kylie especially enjoys rehabilitation medicine including performing acupuncture to manage chronic conditions such as arthritis; surgery and also has an interest in animal behaviour.
She has 3 Australian Cattle Dogs, that in her spare time enjoys doing canicross, stockdog training and agility and she also enjoy running, hiking and reading.